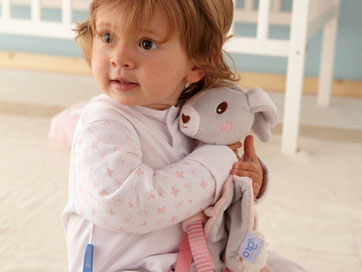 Though Spring is technically just a couple of weeks away, winter seems to be hanging in there, with many blustery days and chilly nights (especially in climates like mine, in Ottawa!). So, imagine how thrilled I was to find out that one of my favourite cozy baby sleep products – the Gro-suit – is finally available in Canada!
When my daughter was still using a sleep sack (she's in a big-girl bed now! Eek!), as much as I loved (and continue to adore!) sleep bags, I often found that her arms seemed clammy during those cold fall and winter nights. Her simple, cotton sleepers just weren't always cutting it. I jumped online to do some research for options that might keep her arms warmer without overheating her body. Cue: Gro-suits!
The Gro-suit, made by The Gro Company (makers of the Gro Clock and the Gro Anywhere Blind, among other amazing products) has been designed to be used in colder temperatures along with a sleep bag.
What's unique (and awesome!) about the Gro-suit is the quilted sleeves that keep your baby's arms warm, with no need for additional bedding or layers. It's designed to be worn with a sleep bag when the temperature dips below 16 degrees celsius. What's even better is that the rest of the sleepsuit has a single fabric layer only, so while your baby's arms stay warm, the rest of your baby's body does not get overheated. Genius!!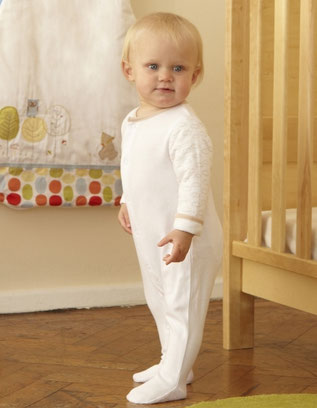 The best part? The Gro-suit is finally available in Canada! When my daughter was still in a crib and using a sleep bag, this fantastic product was like a mythical unicorn to me, only available in the UK and not available for shipment overseas. I actually had a friend in London find a store, buy four of the sleepsuits, and mail them all the way to me in Ottawa! Your journey to a Gro-suit will be much shorter: Oyaco Products, the distributor of Gro Company products in Canada, now carries this oh-so-awesome sleep accessory!
Check out these suits to get your little one through the rest of this long winter and into the chilly spring with added coziness! Know someone expecting a baby later this year? The Gro-suit makes a fantastic and unique shower gift! Mama friends will thank you for uncovering this hidden sleep gem!
Erin Junker is a Professional Infant & Toddler Sleep Consultant, and owner of The Happy Sleep Company (thehappysleepcompany.ca). She works closely with tired parents to help them help their little ones get the healthy, restful sleep they need. Follow her at www.facebook.com/thehappysleepcompany and on Twitter @TheHappySleepCo, and let's get your family the healthy, happy sleep you deserve!